Oxygen, nytrogen, sulphur dioxide and carbon dioxide micronizer, Gas co2 dosing system.
co2 dosing system - Gas dosing device Retractable rod with T sliding system for micronizing inert gases such as SO2, Nitrogen, Carbon dioxide, Oxygen, etc. useful for tanks and dosing sulphur dioxide.

gas dosing device gas micronizer explanations and instructions
gas dosing system
how it works retractable rod english sch
Presentazione Microsoft Power Point
76.3 KB
tanks and wine fermentation utilities gas dosing system
gas dosing device
presentation of the product.pdf
Documento Adobe Acrobat
126.3 KB
TWO functions IN ONE tool
 The "retractable rod" is used  to inject dosed oxygen or micronized inert gases (CO2 or N2)or (SO2) in full tanks. The retractable rod is introduced in the tanks through the partial discharge valve. With the new "T sliding system"  made with a Y- Garolla-connector it can also be used  to inject  oxygen or micronized gas (CO2 or N2) during the liquid pour , or during the bottling process.
 The system can be  automated for any requirement; example:
Do you want to keep in suspension the fining products or the active carbon in the mass for 24 hours or more ? You'll just need to introduce the retractable rod in the  selected tank. It will inject the programmed quantity  of inert gas at fixed intervals according to your own needs.
Your fermentative processes will be improved by this tool, will be easier to avoid bitter taste.
Dosing gases is now easier.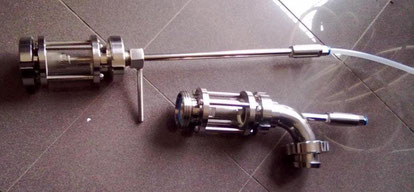 Example of possible uses: CO2 dosing system for Wine fermentation aids, born to improve wine and liquid products quality by adding gases, it can be used also for oxygen supply to decrease the fermenta